MCC Panels, MCC distribution board, MCC electrical panel suppliers & exporters in India.
Because it can regulate the control power supply, the MCC panel is also known as the Motor Control Center Panel. Shrinath Electric's are created in accordance with IEC 60529 and IS 8623 standards. In addition, occupants offer superior quality and dependability.
IEC 60947, parts I, II, and III/IS 60947, parts I, II, and III apply to all switches, circuit breakers, and connections. Indian and international electrical standards like IS 8623 and IEC 60529 are adhered to.
Additionally, all of our LT panels have undergone preparation for decreasing, water washing, de-rusting, and phosphating. All LT panels are then painted with powder-coated or synthetic enamel depending on the customer's preferences. In accordance with your needs, Shrinath Electric will also provide you with a custom-made MCC Panel.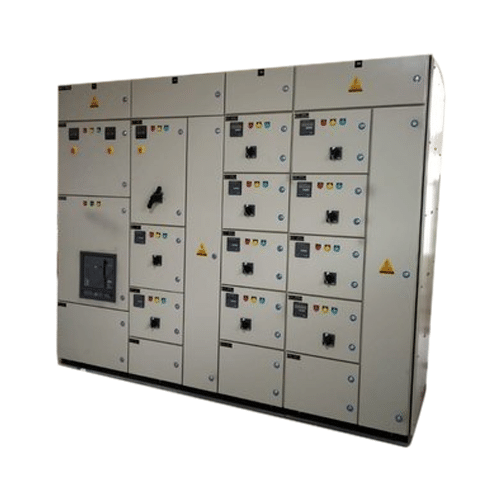 Solid-state controllers, electromechanical starters, variable frequency drives, low voltage solid-start starters, panelboards, PLC control sections, communication packages, and other components can all be found in MCC panels.
MCC Panels (Motor Control Center Panels), MCC Panel Manufacturer, MCC Distribution Board, and MCC Electrical Panel control the motors from a central location in big industrial and commercial applications. Each region in the motor control centers has power contactors, protection relays, isolators, and other control and indication devices. The motor control centers also have several enclosed parts. The MCC may be expanded with VFDs, PLCs, metering, and other parts as necessary. Accurate Motor Control Center (AMC) is the term for Electrical Component Assembly (ECA), which includes MCCB, Contactor, Overload Relay, and MPCB (MCC).
Variable frequency drives (VFD), programmable controllers (PCs), and metering may all be found in motor control centers (eAccu- IMCC Panel). Accu-MCC has the most cutting-edge and reliable technology, with intelligent drawing designs, according to IEC and Indian standards. In the electrical power sector, a lot of motors are controlled by the MCC Panel (motor control center). It is therefore essential in the subject of electricity. Electrical control panels include MCC panels, sometimes referred to as LT panel control panels. In other words, the motor might be regulated from generation to production. We are experts in MCC panels.