Manufacturer Of Control Panel, Industrial Control Panels, Power / Motor Control Center, Switch Boards, APFC Panels, Anand, Gujarat, India.
APFC Panel (एपीएफसी पैनल ) also known as Automatic Power Factor Control instrument panel Manufacturer, Supplier Based In Ahmedabad, Gujarat, India. We believe in manufacture and supply a qualitative range of panels & providing the best quality and affordable products related to APFC Panel. "SHRINATH ELECTRIC" is a well-known Manufacturer of a flawless assortment of APFC Panel, Single Phase Power Saving Device, Remote Control Switches, etc. APFC panel manufacturer, suppliers, We offering the best quality APFC panel and more based in Gujarat, Rajasthan, Maharashtra, Madhya Pradesh, and Uttar Pradesh. APFC panels, also known as automatic power factor improvement panels, are able to regulate the power factor for reactive loads. According to the State Electricity Board, automatic power factor control panels, or APFCs, are primarily used to maintain power factor.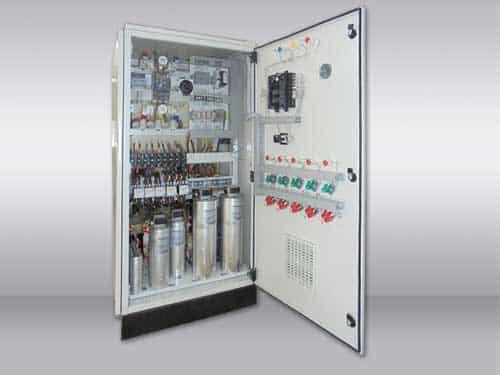 The function of APFC panels is to eliminate the trailing reactive power counter effect brought on by inductive loads like induction motors. These panels, which are microprocessor-powered, can detect lagging reactive power and automatically rectify power factors by injecting reactive power into the grid by turning capacitor banks ON. Depending on the client's needs, a variety of bespoke APFC panel types are available for power requirements ranging from 30 kVAr to 1000 kVAr. Big electricity loads are typical in commercial and industrial areas. However, handling these loads manually frequently results in loss and energy waste, and when done too frequently, it can also result in penalties. Instead, businesses can switch to APFC panels to solve this issue through the use of automation and guarantee that the utility power factor is successfully maintained. The APFC panel's main purpose is to boost the power factor. Poor power factor is caused by the majority of the electric load being reactive. Power factor improvement is encouraged by electricity distribution companies. Electricity users must link capacitors with the best ratings across inductive loads to improve power factor. When necessary, an automatic power factor converter (APFC) is used to increase the ability factor by automatically turning the desired capacitor bank units ON and OFF.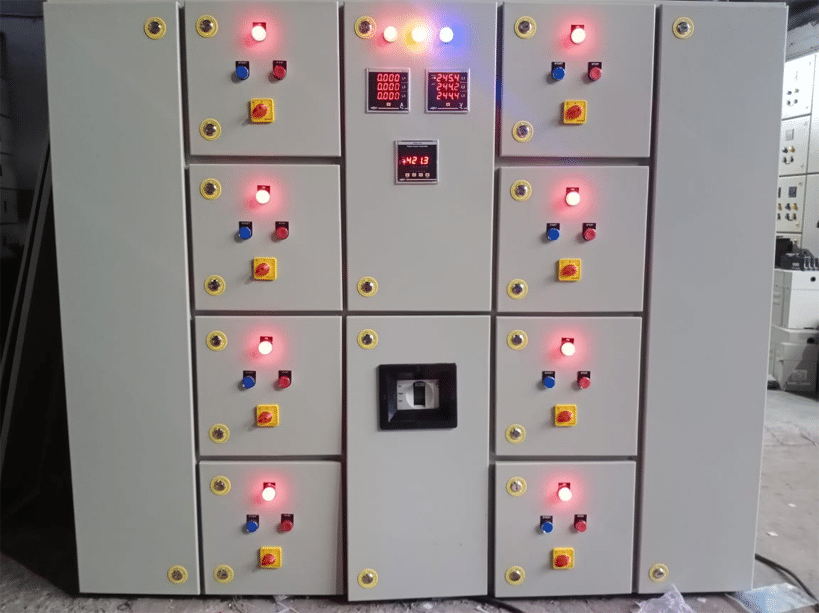 The reactive load (RKVA) is directly read by the APFC Panel's microcontroller-based programmable controller, which switches the capacitor banks to the appropriate capacity automatically in several stages. This method uses the VAR sensing principle and tends to keep the PF at 0.99 Lag. Automatic Power Factor Controller Relay is the name of this relay. Low power factor: detrimental. Industries use a variety of loads, including capacitive, inductive, and resistive types. It is necessary to attach a hard and fast capacitor or capacitor bank at the LT side of the Transformer to increase the facility factor. KVAr of necessary capacitors is around. The APFC should be suggested if the installation contains a mixture of large and diverse little loads. APFC and RTPFC Panels are the two different types of APFC panels. The RTPFC is an advanced real-time power factor correction panel, whereas the one is an automatic power factor improvement panel.
By using these panels, you can assure that the LT Panels receive high-quality electricity while saving an average of 30% on your energy costs. By using these panels, you may save the hassle of manual switching, reduce power loss, and assure quick and real-time responses while also providing a high break relay Polarity reversal indicator.
APFC Panels, APFC Panel Manufacturer, Automatic Power Factor Correction System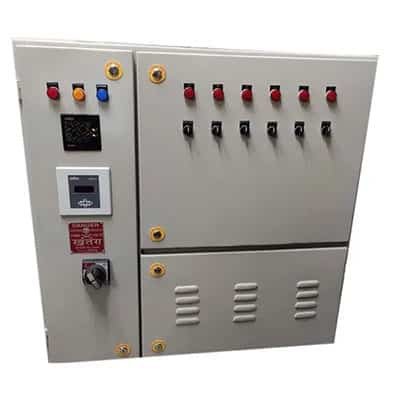 60 KVAR APFC Control Panel
| | |
| --- | --- |
| Voltage | 220 V |
| Usage/Application | Power Distribution Panel |
| Working Temp | -40 Degree Celsius |
| Type | High Voltage |
| Phase | 3 – Phase |
| Frequency | 50 Hz |
| Power | 60KVAR |
| IP Rating | IP55 |
| Body Material | Mild Steel |
| Surface Treatment | Powder Coated |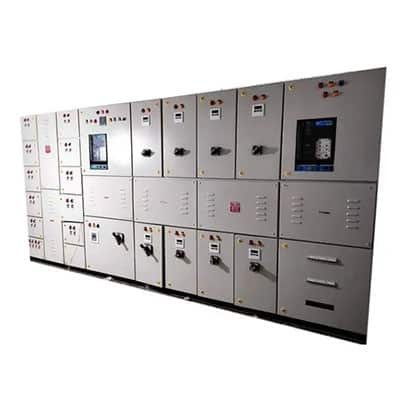 300 KVAR APFC Conrtol Panel
| | |
| --- | --- |
| Voltage | 380 V |
| Usage/Application | Power Distribution |
| Working Temp | -60 Degree Celsius |
| Type | High Voltage |
| Phase | 3 – Phase |
| Frequency | 50 Hz |
| Power | 300KVAR |
| IP Rating | IP66 |
| Panel Type | APFC |
| Automation Grade | Automatic |
| Body Material | Mild Steel |
| Surface Treatment | Powder Coated |
600 KVAR APFC Control Panel
| | |
| --- | --- |
| Voltage | 380 V |
| Usage/Application | Power Distribution |
| Working Temp | -80 Degree Celsius |
| Type | High Voltage |
| Phase | 3 – Phase |
| Frequency | 50 Hz |
| Power | 600KVAR |
| IP Rating | IP66 |
| Rated Current | 2500 Amp |
| Automation Grade | Automatic |
| Body Material | Mild Steel |